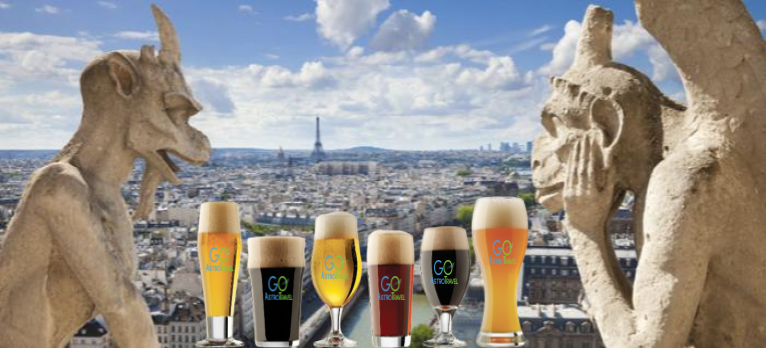 Go Astro Travel's Paris, Normandy & Beer Cruise
Sailing Roundtrip Paris
October 20 – October 27, 2022
Proof of Vaccination Required for All Guests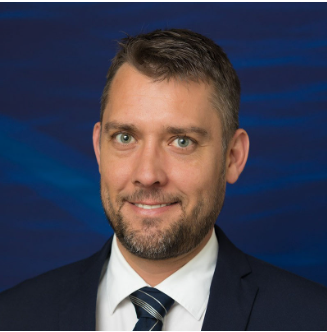 Cruise the Seine River for our first beer cruise led by Nick Hertog. This private group will cruise in luxury with fellow beer enthusiasts. Learn about the French Craft Beer Movement while you visit some incredible places including one of WWII's most important sights, the beaches of Normandy. To reserve your spot
Paris & Normandy
The Paris & Normandy cruise offers a wonderful experience. As you sail the Seine you will enjoy medieval history, impressionist art history as well as WWII history. Visiting the beaches of Normandy is one of the most moving experience you will have on a river cruise. We will combine the regular tours with a beer pairing dinner and beer themed activities/excursions.
---
Features:
Several beer themed excursions/events just for our private group
Search out new varieties of beer and wine not exported to the US
AmaWaterways luxury including first rate food and service
All Excursions on an AmaWaterways cruise are included
Opportunities for bicycle excursions, wine tastings and world class scenery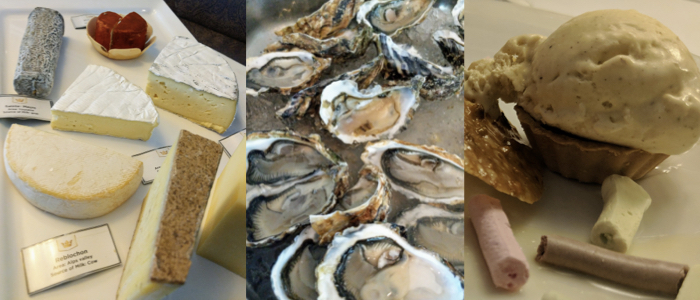 Paris & Normandy*
Paris always sizzles while Normandy beckons with its stunning coastline, incredible food and artistic beauty. Monet's Gardens, Rouen's Cathedral of Notre Dame and the charming harbor town of Honfleur, will inspire you the same way as they inspired the great Impressionists. For inspiration of a different kind, travel the "Routes des Abbayes," visiting some of the most magnificent monasteries, and to the unforgettable beaches of Normandy where Allied forces landed during WWII's D-Day invasion. Relive the grandeur of royalty at Château Malmaison, the former home of Napoleon and Josephine Bonaparte, and at Chateau de Bizy, once referred to as "the Versailles of Normandy." Blend a passion for the good life with culture, art, architecture and timeless landscapes, and you have Northern France.
Flights:
Flights are not included. You will fly in and out of Paris. AmaWaterways offers contracted rates which should be available around the beginning of December 2021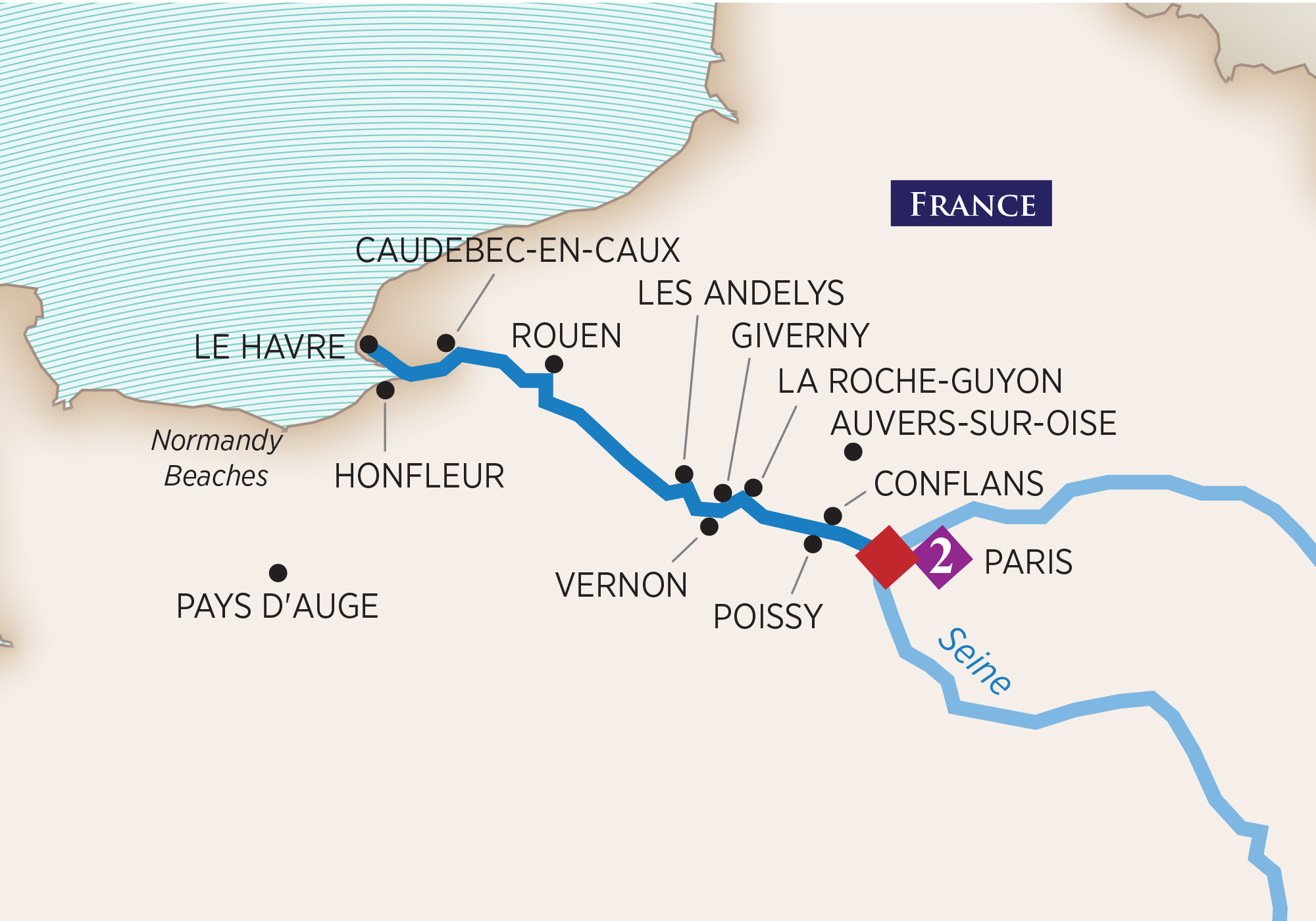 EMBARKATION – PARIS, FRANCE
Board the ship in Paris for your Paris & Normandy cruise. (D)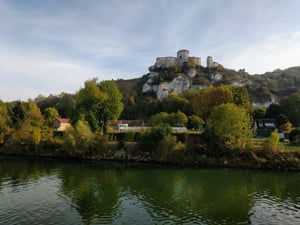 DAY 2
LES ANDELYS
Uncover the history of Château Gaillard, the former stronghold of Richard the Lionheart, situated on the chalk cliffs high above the Seine, on a morning tour. Or, if you prefer a more active adventure, you can hike there from the banks of the Seine, admiring the scenic views along the way. For those who wish to explore the area on two wheels, join a guided bike tour through the charming town of Les Andelys. After your adventures, set sail along the meandering Seine for a scenic cruise. (B,L,D)
DAY 3

LE HAVRE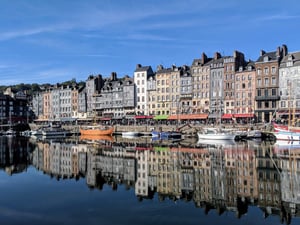 There are several different choices of excursions, both during the morning and afternoon, depending on your interests. You can choose between an excursion to the seaside town of Honfleur, renowned for its picturesque harbor, and for being an inspirational site for Impressionist painters; or enjoy a full-day excursion that includes Honfleur and the delicious Pays d'Auge region of Normandy, where apple cider, Calvados and pommeau outrank French wine. Enjoy a country drive through Beamont-en-Auge and Pont l'Eveque, and afterwards, be treated to a cheese and Calvados tasting. During the afternoon, you can join a city tour of the UNESCO-designated Le Havre. Alternatively, you have the choice of a bike tour through Le Havre. (B,L,D)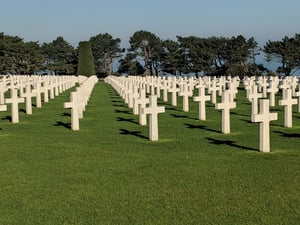 DAY 4
LE HAVRE – CAUDEBEC-EN-CAUX -NORMANDY BEACHES
Experience the Normandy region with one of three tours. For those wishing to go to the American sector of the historic Normandy Beaches, you will visit the cemetery at Colleville-sur-Mer, Omaha Beach, the artillery battery at Longues-sur-Mer and the village of Arromanches, where the remains of the floating harbor used during the WWII landings can be seen. If you prefer, you can tour the Gold and Juno beaches in the British and Canadian sectors, where you will visit Ranville Cemetery, Pegasus Bridge, the Canadian cemetery at Beny-sur-Mer, the WWII museum in Courseulle and, finally, Arromanches. If you wish to experience a different kind of inspiration, the Romanesque Normandy Abbey Route will take you to one of the magnificent historic abbeys of the region. Later in the day, travel to Caudebec-en-Caux and journey back in time with the interactive exhibits and vessels at the Seine Museum. (B,L,D)
DAY 5
ROUEN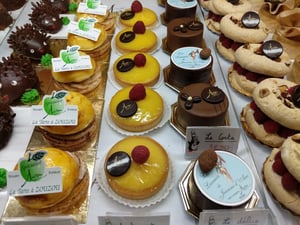 Spend the morning enjoying medieval Rouen with a choice of several excursions. Join a walking tour past the imposing Notre Dame Cathedral, painted numerous times by Monet, and see the square where Joan of Arc was martyred, as well as the Medieval Quarter and Great Clock. You also have the choice to explore Lyons-la-Forêt, built on the site of a former fortress and featuring remarkable centuries-old architecture; go on the "Tastes of Normandy" tour, where you'll be treated to the delicious flavors of the region, including chocolate, macaron, Norman cheese and cider; or get active by going on a guided bike tour. (B,L,D)
DAY 6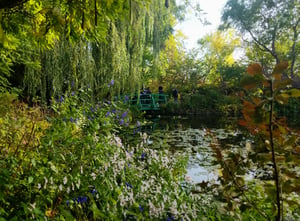 VERNON – LA ROCHE-GUYON
Enjoy scenic cruising around Vernon before disembarking the ship for your excursion. You will have a choice of three excursions, depending on your interests. Visit Claude Monet's home and gardens in Giverny. Art lovers will immediately recognize images immortalized in Monet's most beloved paintings—such as water lilies, Japanese bridges and graceful willow trees. Wander around his famous gardens and home where he lived for more than four decades. Or visit the regal 18th-century Château de Bizy, inspired by the opulence of Versailles. Enjoy an escorted tour of the palace and gardens. If you prefer a more active adventure, go on a guided bike tour, taking in the beautiful French countryside. In the evening, visit the quaint village of La Roche-Guyon, one of the most beautiful in France, and enjoy free time to stroll along the Seine or amid the pretty architecture. (B,L,D)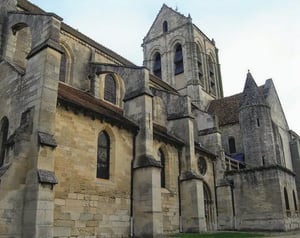 DAY 7
CONFLANS
Travel to Auberge Ravoux in the heart of Auvers-sur-Oise, the last home of artist Vincent van Gogh. His spirit still lingers in his former attic rooms at the Ravoux Inn. The mere 70 days Van Gogh spent in Auvers-sur-Oise were astonishingly prolific as he painted more than 70 works here before his death. Or enjoy the youthful energy of Saint-Germain-des-Prés, with its museums, bookstores, churches and galleries. If you prefer something more active, strap on your helmet and pedal around the city of Conflans. Later in the day, relax on the Sun Deck or on your balcony as the ship takes a scenic cruise on its way to Paris. (B,L,D)
DAY 8
PARIS – DISEMBARKATION
Bid farewell to Paris and prepare for your flight home. (B)
*Itinerary description subject to change and will be updated as soon as AmaWaterways releases their 2021 sailings to the public.
AmaLyra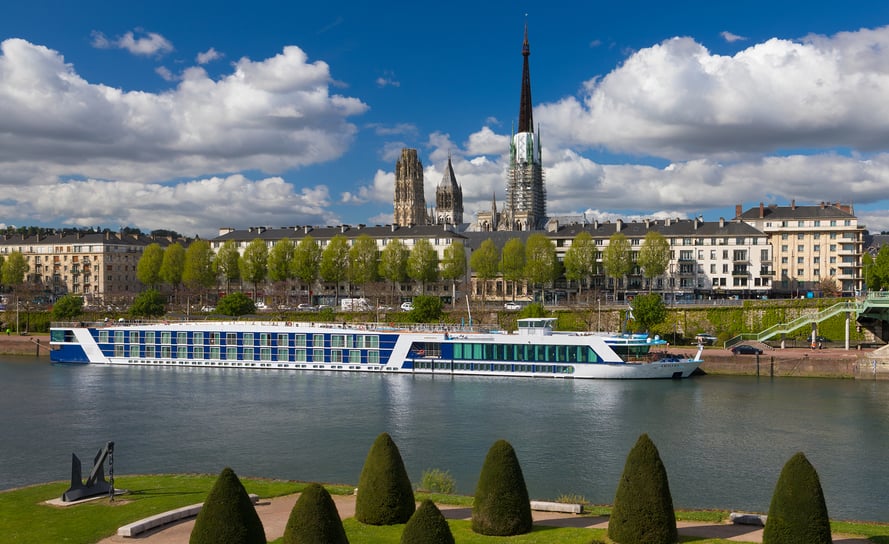 The 144-passenger AmaLyra made her debut in 2009. Relax in spacious, elegantly appointed staterooms, ranging in size from 170-225 sq. ft., or in a single stateroom of 140 sq. ft. You can always indulge even more in one of the suites at 255 sq. ft. Most staterooms have a French balcony. Additional stateroom amenities include Entertainment-On-Demand, featuring free high-speed Internet access, unlimited Wi-Fi, movies, music and English language TV stations; climate-controlled air conditioning; and an in-room safe. In the marble bathroom, enjoy multi-jet showerheads, soothing bath and body products, robes and hair dryers. Suites feature added enhancements, including a larger sitting area with sofa and two chairs, and an expansive bathroom complete with a bathtub and separate shower. The AmaDante offers a host of added comforts and conveniences, including a sauna, whirlpool, massage and hair salon, a stylish and inviting Main Lounge, and specialty coffee station. As a member of La Chaîne des Rôtisseurs, the exclusive international culinary society, you'll be treated to exquisite, locally-inspired cuisine always paired with unlimited wine, as well as beer and soft drinks with lunch and dinner. You'll also enjoy a variety of dining venues, including The Chef's Table specialty restaurant, featuring an exquisite tasting menu prepared right before your eyes. With a walking track on the Sun Deck, a fitness room and a fleet of onboard bicycles to use on your own or on one of the many guided bike tours, as well as healthy menu choices, you'll have everything needed to stay active and healthy while sailing Europe's great rivers.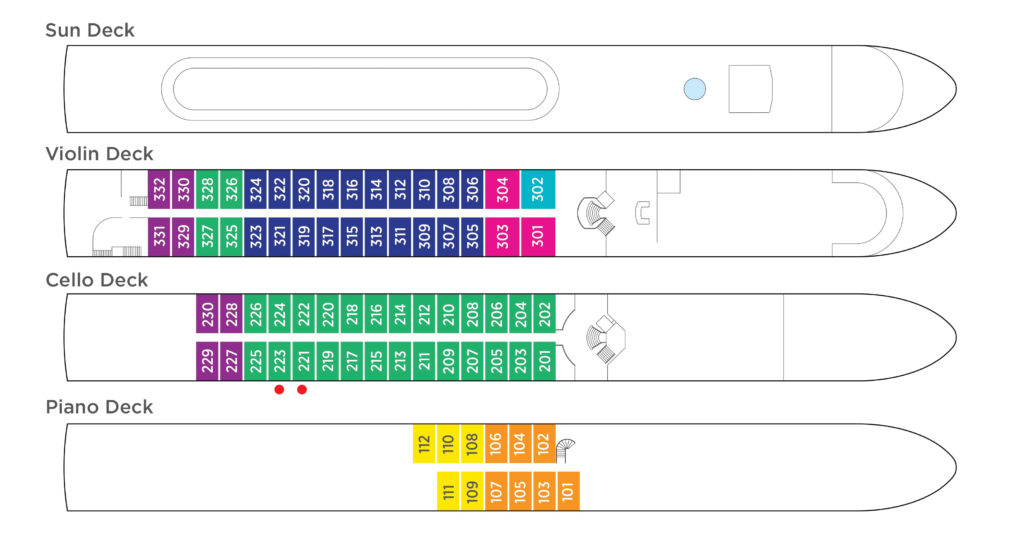 ---
Cabins are efficient and well appointed. Shown is the Category A at 170 sq ft of space. Categories B & C are identical to Category A. The only difference is location. For Most cabins have French Balconies; some of fixed windows.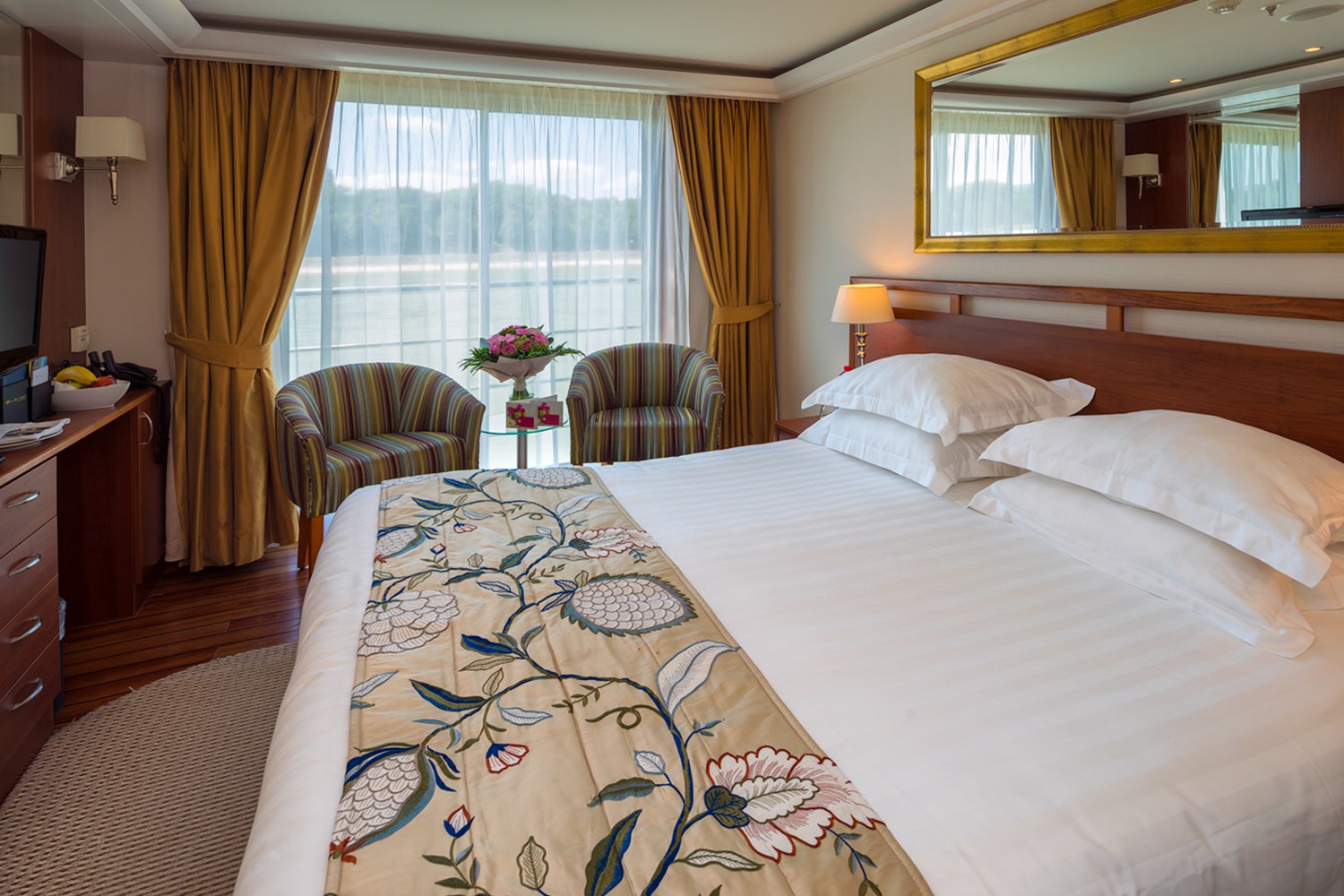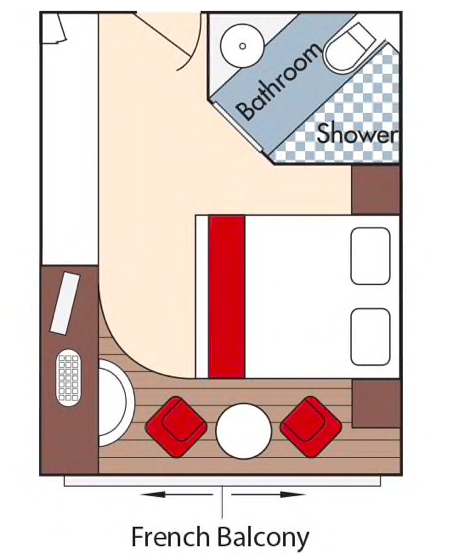 ---
Category D & E 160 sq ft. Located on the Piano deck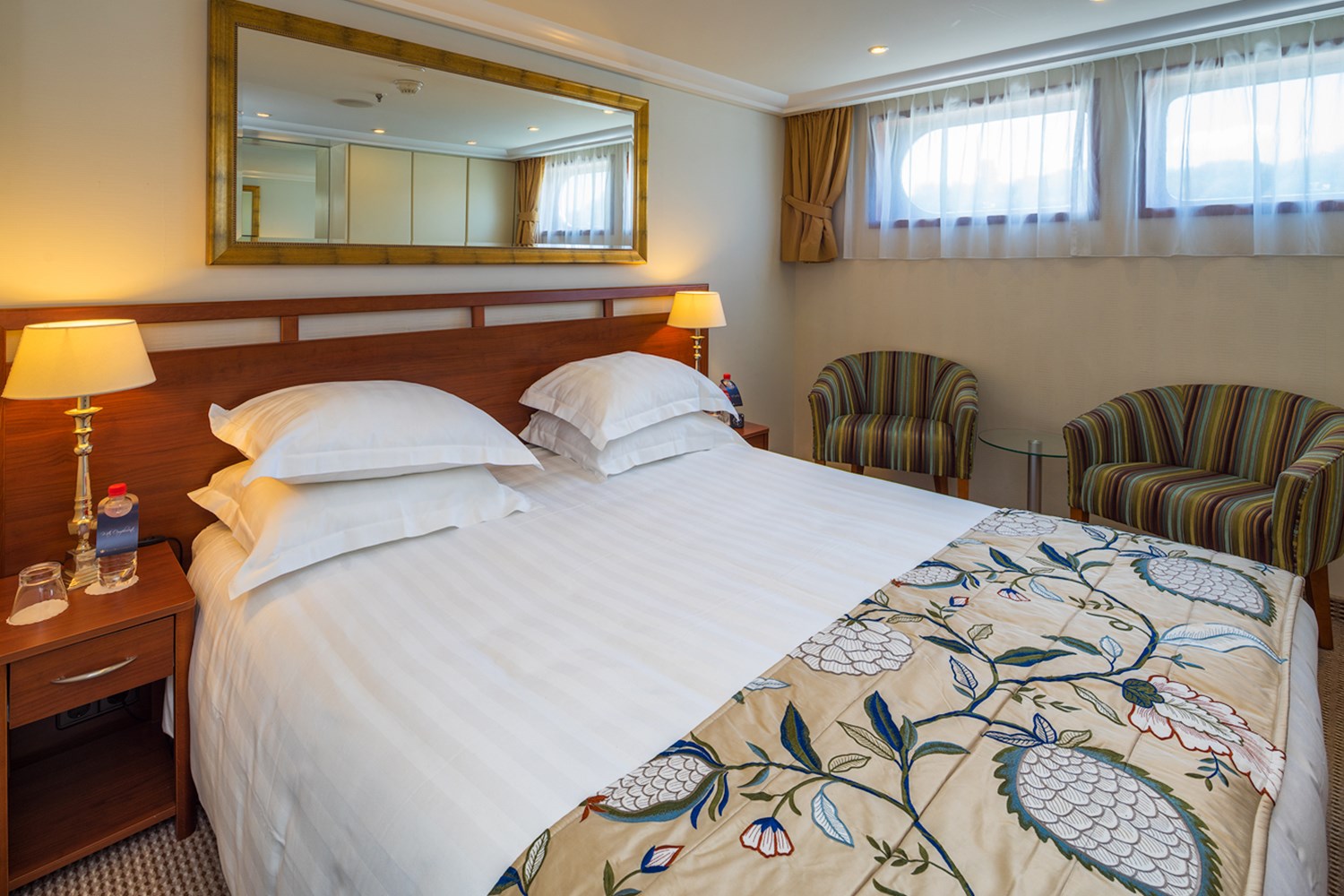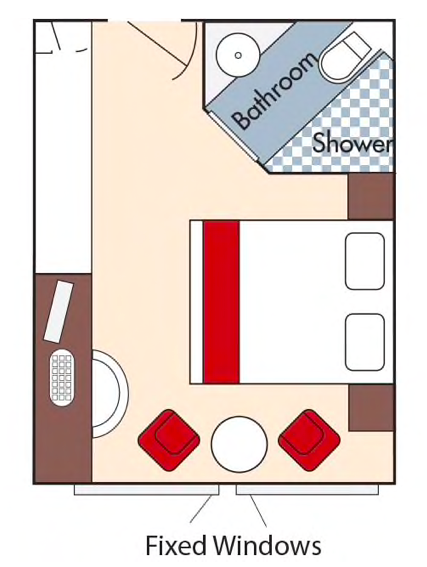 ---
Top 10 Reasons Why AmaWaterways Outshines Other River Cruise Lines:
Ships are built with lower draft and less weight – This allows them to sail in more extreme water conditions.

A common problem in river cruising is high and low water situations.

AmaWaterways ships are less susceptible to these issues

More Excursions Included – AmaWaterways offers an excursion in every port and a lot more choices – many lines only offer 1 excursion per day with limited choices.

Bikes onboard – AmaWaterways not only has bikes onboard but they also offer bike excursions

Local Wines – When in Austria enjoy Austrian wines, Budapest enjoy Hungarian wines.

Other lines give you house wines or charge you a fee for an upgraded wine package.
Chef's Table Restaurant – Watch the chef prepare an amazing meal right before your eyes.

This wonderful experience is included for all guests.

Dining Room Oversized – No rush to be seated for dinner, there is plenty of room for everyone

Less Passengers – AmaWaterways twin balcony ships are the same physical size as other ships but the Ama ships carry about 30 less passengers.

When other lines have to bring out folding chairs for entertainment and informational sessions Ama can comfortably fit every passenger.
A deposit of $400 per person is all that is required to confirm a reservation.

Final payment is not due until 90 days prior to departure.

Single Supplement Waived for categories D & E on Most Sailings (subject to availability)

Family owned and operated
Go Astro Travel Exclusive Pricing!
Book now and receive the best pricing.
To book email Susan@GoAstroTravel.com or Call Susan Wolfson at 610-844-4077
Double Occupancy Rates*
| | | | | | |
| --- | --- | --- | --- | --- | --- |
| Suite (french balcony) | Violin Deck 255 sq ft | $6,798 | -$250 | $210 | $6,758 |
| A+ (french balcony) | Violin Deck 225 | $6,498 | -$250 | $210 | $6,458 |
| A (french balcony) | Violin Deck 170 sq ft | $5,498 | -$250 | $210 | $5,458 |
| B (french balcony) | Cello Deck 170 sq ft | $5,398 | -$250 | $210 | $5,358 |
| C (french balcony) | Violin/Cello Deck 170 sq ft | $5,098 | -$250 | $210 | $5,058 |
| D (fixed window) | Piano Deck 170 sq ft | $4,298 | -$250 | $210 | $4,258 |
| E (fixed window) | Piano Deck 170 sq ft | | | | Sold Out |
Please call for Single Occupancy Rates
*Port Charges of $210 per person are included in the above pricing. Prices are for the 7 night cruise and are per person based on availability. Past AmaWaterways guests will receive their Loyalty Discounts. AmaWaterways Future Cruise Benefit discounts and AmaWaterways Future Cruise Credit Certificates will be allowed. Airfare is not included.
Deposits: $400 per person $200 of which is immediately non refundable.
Additional cancellation penalties start 120 days prior to sailing(30 days before the final payment). Your confirmation will have the full terms & conditions
Final payment: July 12, 2022
---
INCLUSIONS
What's Included?
AmaWaterways Inclusions
Excursions – Small group guided tours included in every port. Bicycle and hiking excursions also available. You can also take a bicycle out on your own.

Meals – Breakfast & lunch offers you a choice of buffet or a la carte service. Dinner is full service with several appetizer, soup, entree & dessert choices. All ships offer an alternative restaurant which is also included

Beer & Wine with Lunch & Dinner – AmaWaterways is known for its wine. Each meal is specially paired with premium local reds and whites from Europe's renowned wine regions

Complimentary Sip & Sail Cocktail Hour each evening!

Bottled Water – One of the most expensive things to buy in Europe is bottled water. Bottled water is great to take on excursions.

Wifi – Included throughout the ship. In addition, each stateroom has in infotainment center that offers access to the internet as well as TV & movies

Entertainment – An eclectic mix of local entertainment is brought on board throughout your cruise. They also have an onboard musician for all other evenings.

Deluxe cruise accommodation

State-of-the-art Infotainment System in all staterooms featuring free high-speed Internet access, hit Hollywood movies, extensive music library & English language TV stations

Complimentary Wi-Fi access on board

Bottled water and drinks of your choice in every stateroom replenished daily
Go Astro Travel Exclusives
Beer events/excursions designed especially for our group

Beer pairing dinner

Beer onboard just for our guests