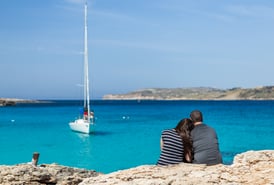 October 16, 2024
Valletta, Malta – EMBARKATION
Board the ship this afternoon. The ship departs at 6pm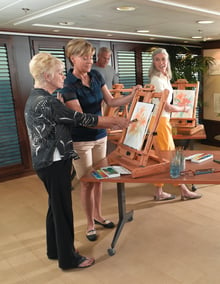 October 17, 2024
Cruising the Mediterranean Sea. While you enjoy a relaxing day at sea perhaps you would like to sign up for one of the Art classes?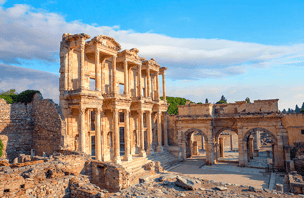 October 18, 2024
Ephesus (Kusadasi) Turkey
7am to 3pm

Meander through the ruins of ancient Ephesus and marvel at the famed Library of Celsus, the huge amphitheater, the marble roads with their chariot marks, the amazing mosaic sidewalks and the superb, rarely opened Terrace Houses. Or journey to three monumental cities of antiquity - Priene, Miletus and Didyma - renowned for their majestic temples and impressive, beautifully preserved stadiums.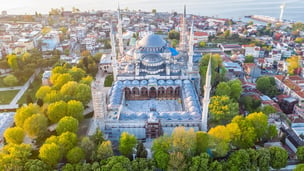 October 19, 2024
Istanbul Turkey
11am - Overnight
Indulge your eyes and senses in this magnificent city astride two continents. Visit beautiful Topkapi Palace, the awesome Hagia Sophia and the impressive Blue Mosque. Cruise the Bosphorus to see the city and its surroundings from another perspective. Visit one of the many museums or stroll through the spice market and the famous Grand Bazaar.

October 20, 2024
Istanbul Turkey
Departing 5pm
Continue your exploration of Istanbul! Perhaps stay ashore and enjoy for lunch and enjoy all the delights Turkey has to offer.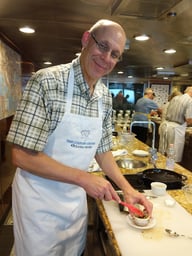 October 21, 2024
Cruising the Aegean Sea
Today is a perfect day to take advantage of all that Oceania offers. Perhaps an art or cooking class? The Culinary Center on board Marina and teaches you how to prepare a variety of exquisite dishes at your own fully equipped workstation in a state-of-the-art teaching kitchen. Passionate chef instructors offer guidance and inspiration to fine-tune your techniques, but each dish is prepared by you. Learn how to make fresh pasta, the fundamentals of cooking seafood or the secrets of traditional French cuisine.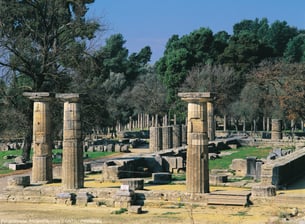 October 23, 2024
8am to 7pm
Katakolon, Greece
Visit ancient Olympia where the Olympic Games began in 776 B.C. and stroll around this deserted sanctuary, admiring the temples, altars and treasuries, and stand on the ground where ancient athletes practiced before competing. Or enjoy a pleasant drive through the countryside past quaint villages to a local vineyard and sample the wines, local cheeses and other foods.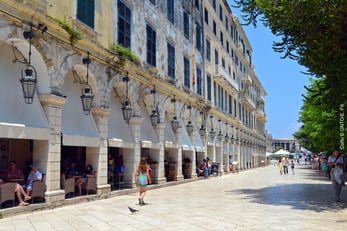 October 23, 2024
Corfu, Greece
8am to 5pm
Immerse yourself in this island of glorious scenery and beaches, serene monasteries, beautiful palaces, traditional mountain towns and Corfu's lovely old Venetian quarter. Or visit the ornate Achilleion Palace, built by Empress Sissi of Austria and filled with dramatic sculptures of the Greek hero Achilles.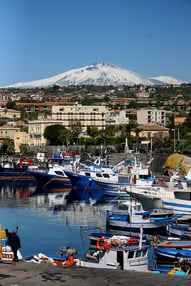 October 24, 2024
Catania, Italy
9am to 5pm
Destroyed by an earthquake in the 17th century, Catania has been beautifully restored and offers ancient churches, castles and amphitheaters, lush gardens and lovely palazzos to explore. Tour the 13th century Ursino Castle, which was situated along the coast until earthquakes and volcanic eruptions transformed the landscape. Drive inland through picturesque villages and explore Villa Romana del Casale, a 4th century villa and UNESCO World Heritage Site containing a complex collection of Roman mosaics considered one of the finest in the Roman world. Photo credit: Paolo Barone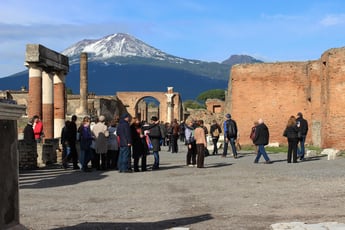 October 25, 2024
Naples/Pompei
8am to 6pm
Spend a day exploring the fabulous ruins of ancient Pompeii or Herculaneum with their stunning temples, frescoes and mosaics. Explore fascinating Naples and its famed museums, visit charming Sorrento or take a boat trip to the beautiful Isle of Capri. Photo credit: Simone Antonazzo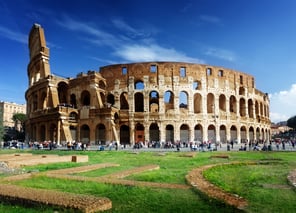 October 26, 2024
Rome (Civitavecchia), Italy
DISEMBARKATION – DEPART the ship starting at 8am
Transportation available to purchase to Rome airport for flights departing after 12pm
Not ready for your vacation to end? Ask about your options for spending a few nights in Rome.