Why choose Go Astro Travel?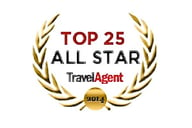 We Specialize in personalized travel:
We know there is no one size fits all vacation. We spend time with you (on the phone, via email or in person) to get to know you so we can better help you plan your dream vacation.
Best Value / Lowest cost:
We have access to products that aren't available on the internet. We are part of a 1500 agency group so we have buying power that can't be matched by others.
Best Advice:
We have personally been to many destinations and have experience sending clients to many more destinations. We will listen to your needs and find the best fit regardless of budget. We won't let you make a mistake on your choice.