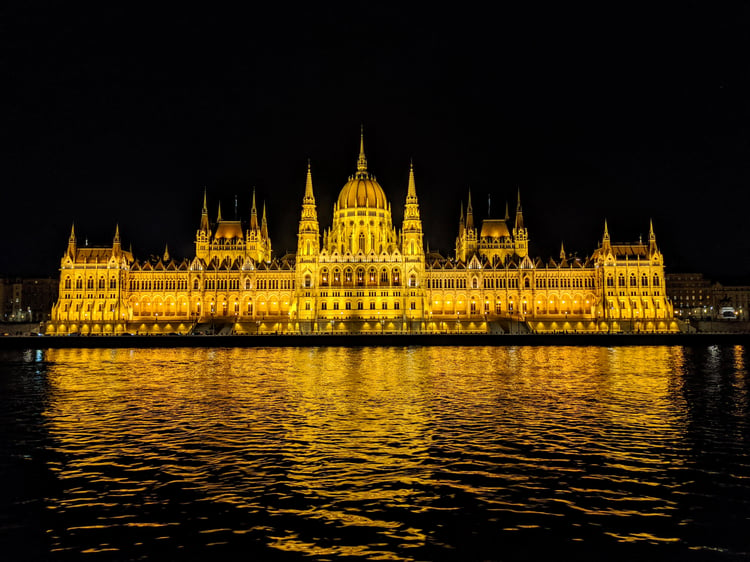 Join Susan & David for a spectacular 5-Night New Year's Cruise
with a 3-Night post cruise tour of Krakow, Poland
on AmaWaterway's one of kind AmaMagna

Majestic Capitals Sailing from Vienna to Budapest + Krakow
December 27, 2024 – January 4, 2025
Proof of vaccination may be required for all guests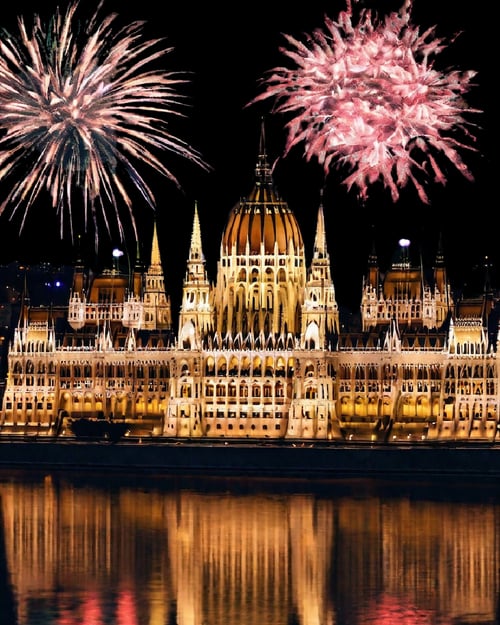 Immerse yourself in the beauty of the Danube as we embark on a 5-night cruise from Vienna to Budapest, visiting the most captivating cities along the way. Experience the thrill of celebrating New Year's Eve in Budapest, creating memories that will last a lifetime. But the adventure doesn't end there. Join us for a post-cruise tour to Krakow, Poland, where we will explore the majestic Castle, delve into the history of the Jewish Quarter, and step into Oscar Schindler's factory. The following day, we will embark on an emotional visit to Auschwitz, a place we should all bear witness to and reflect upon.

DAY 1
ARRIVE IN VIENNA, AUSTRIA – EMBARKATION
Board the ship in VIENNA for your Majestic Captials of the Danube Cruise
DAY 2
VIENNA
The "City of Waltzes" offers a treasure trove of gems and your city tour showcases them, including the majestic Opera House and the former Imperial Palace. Your tour concludes in the historic city center with a visit to St. Stephen's Cathedral. Or if you prefer a more active tour, take a guided bike ride through Vienna. Alternatively, visit a traditional Viennese café to experience a true Vienna specialty, the Sacher Torte, and savor this treat with a piping hot Viennese Coffee. During the afternoon, enjoy leisure time to further explore this iconic city. For those of us that have been to Vienna before we can check the schedule of the
Spanish Riding School
to see if they have anything training sessions or other events available to us an an optional tour.(B,L,D)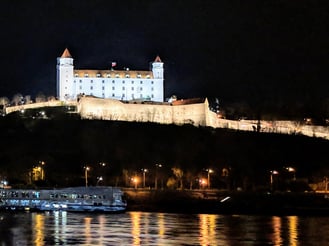 DAY 3
VIENNA/BRATISLAVA, SLOVAKIA
Visit the UNESCO-designated Schönbrunn Palace and Gardens, the main summer residence of the Habsburg rulers. Built in the 18th century as an imperial summer residence, this magnificent 1,441-room Baroque palace is one of the most important architectural, cultural and historical monuments in Austria. For guests that have visited the palace before you might want to consider an optional tour of Vienna exploring the Jewish or WWII history of Vienna. If you prefer a more active tour, pedal along the scenic Danube River and through charming neighborhoods to the nearby town of Klosterneuburg and its majestic 12th-century Augustinian monastery. Enjoy a scenic cruise in Vienna before sailing to Bratislava. In the evening, end your day with an exclusive Slovakian folkloric experience. (B,L,D)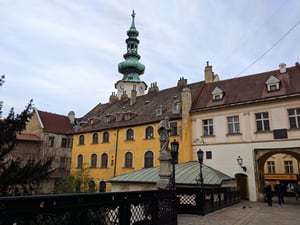 DAY 4
BRATISLAVA, SLOVAKIA
Host to the crowning ceremonies of 11 Hungarian kings and queens between 1536 and 1830, Bratislava certainly has earned the title "Coronation City of Kings," as you'll discover during your walking tour. Or join a special "Tastes of Slovakia" tour. For a more active adventure, hike up to Bratislava Castle, offering magnificent views of the city or enjoy a guided biking tour. Take in the magnificent view as we glide along the Danube River into Budapest. For a different experience you might want to consider a self-guided pub crawl of Bratislava.(B,L,D)
DAY 5
BUDAPEST, HUNGARY
Budapest offers an unmatched combination of culture and tradition. Your city tour begins venturing to both the Buda (hilly) and the Pest (flat) sides of the river. You'll see Heroes' Square and Castle Hill, home to the Fisherman's Bastion and Mattias Church. If you prefer venturing off the beaten path or are returning to the city for a repeat visit, join our Jewish heritage tour which visits the museum at beautiful Dohány Synagogue, as well as the Tree of Life Holocaust memorial and the Temple of Heroes, dedicated to Jewish Hungarian soldiers who fought during WWI. As an alternative, you can hike up to Castle Hill for breathtaking views of the city below. In the afternoon, spend free time at your leisure to explore the city. If you have been to Budapest and would like to explore more of the city rather than take the offered tours you may consider a tour of the Budapest Synagogue, schedule a visit to the Thermal Baths or a WWII history tour. (B,L,D)
DAY 6
If you book cruise only you can head to the airport after disembarking the ship. If you decide to join us in Krakow, Poland the itinerary continues:
After departing the ship, you will stop in Banská Bystrica, an historic and picturesque Slovakian city with architecture that dates to the medieval period. Enjoy time for a nice lunch, then continue to Krakow to check into your hotel. (B)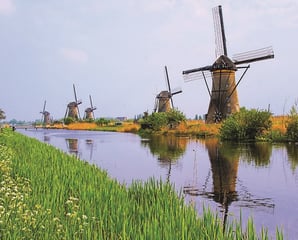 DAY 7
KRAKOW, POLAND
Get acquainted with your surroundings and take a deeper dive into the fascinating history of Krakow with a comprehensive city tour. Visit the Wawel Royal Castle – the world's very first designated UNESCO World Heritage Site and Poland's largest castle, located in the center of its Old Town. The Wawel Hill it stands upon features a limestone cave renowned for its connection to the legendary Wawel Dragon of Polish folklore, which you will learn more about during your tour. You will also venture into Krakow's historic Jewish Quarter and see the factory of Oskar Schindler, who was credited with saving 1,200 Jewish lives during World War II, and who was famously honored in the award-winning film Schindler's List. You will also be treated to a live performance of the Polish anthem by a trumpeter on the highest tower of Saint Mary's Church, otherwise known as St. Mary's Trumpet Call, a tradition since the 19th century. Enjoy the afternoon at your leisure to explore more of the city. (B)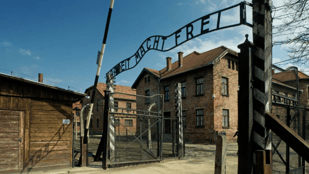 DAY 8
Prepare yourself for an emotional day as together, we explore a darker period in Poland's history with a visit to Auschwitz, the largest and most tragically infamous of Europe's labor and death camps. The main gate, barbed wire fences, buildings and barracks look much the same today as they did during the Holocaust, when 1.1 million lives were taken within the camp. It was liberated from January 17-21, 1945, saving 58,000 from further horrors. Though not for the feint of heart, this once-in-a-lifetime excursion will honor the memory of those who perished and promises to be one you won't soon forget. (B)
Bid farewell to Krakow and prepare for your return flight home.
Whether you've sailed the Danube before or not, celebrating New Year's Eve in Europe aboard the extraordinary AmaMagna promises a truly unparalleled experience. This remarkable ship, envisioned by Rudi Schreiner, the renowned "Godfather of River Cruising," is like no other. With its impressive width, luxurious space, and four distinct dining venues, the AmaMagna is redefining river cruising on the Danube. It offers spacious suites, ranging from 355 to 710 sq. ft., complete with full balconies. Indulge in delightful meals at the Main Restaurant, The Chef's Table, Jimmy's (a family-style eatery named after the late Co-Owner Jimmy Murphy), or the intimate Al Fresco Restaurant, which serves delectable vegetable-forward cuisine. Take a dip in the heated sun-deck pool or unwind in the whirlpool while soaking in the breathtaking views. For a rejuvenating experience, visit the Zen Wellness Studio, featuring a state-of-the-art fitness center, two massage rooms, and a refreshing juice bar. Active guests can enjoy the ship's brand-new full-size pickleball court on the Sun Deck. With options for connecting staterooms and triple/quadruple accommodations, AmaMagna is also an ideal choice for families. Discover the AmaMagna, a destination in itself, and create memories that will last a lifetime.
AmaMagna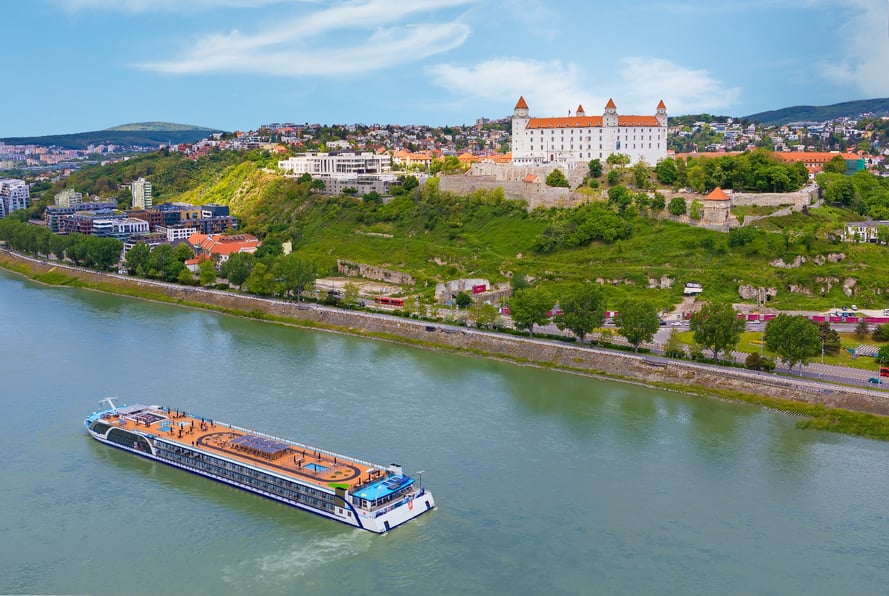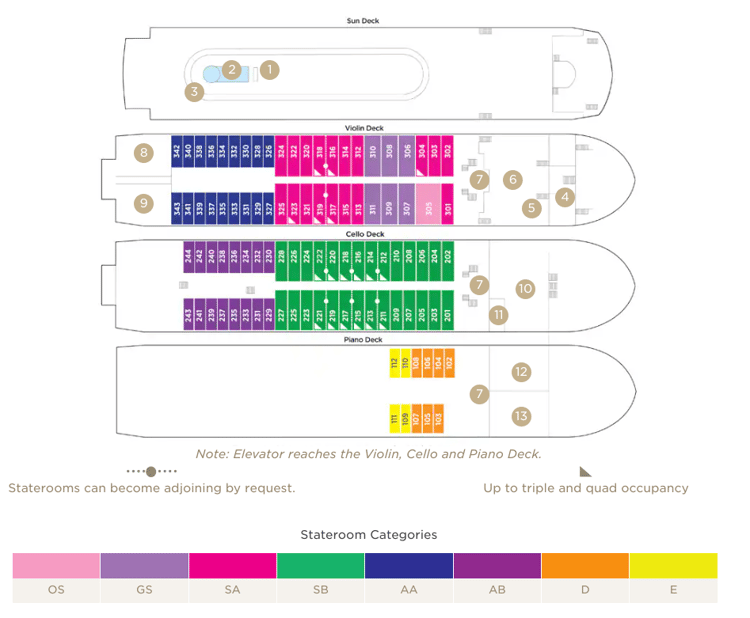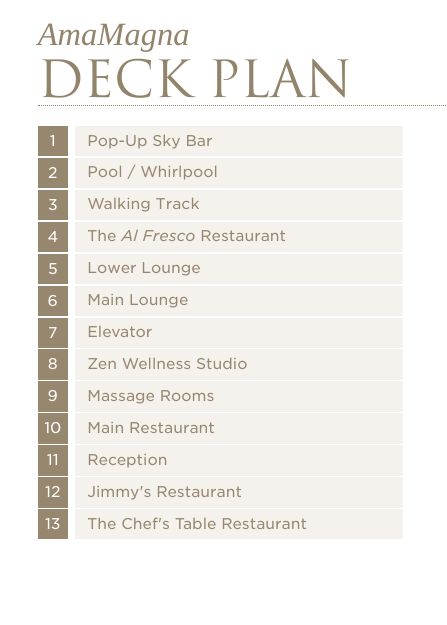 Category OS 710 sq ft. located on the Upper Deck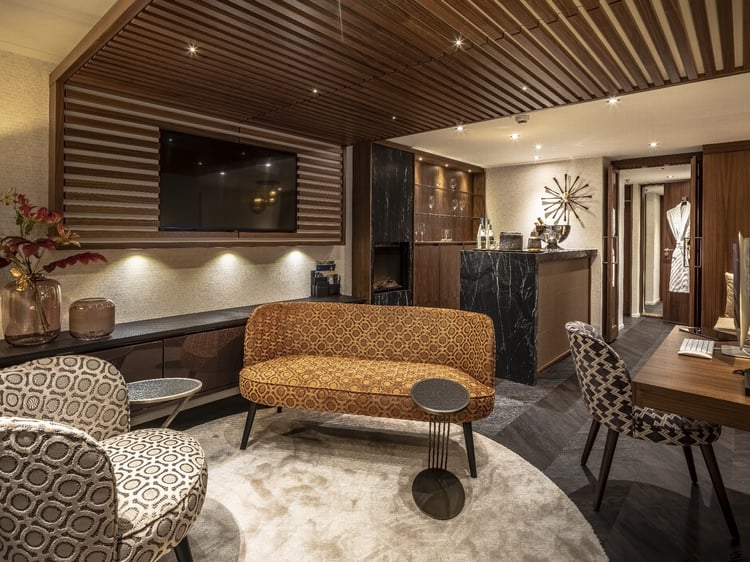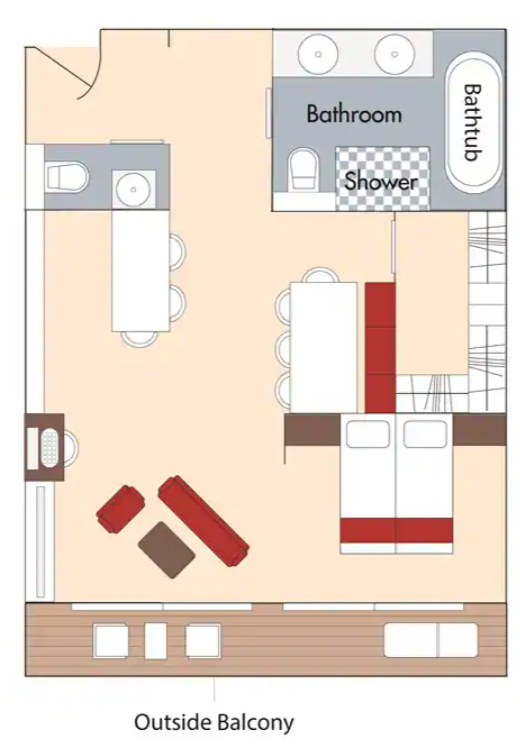 ---
Category GS 474 sq ft. located on the Upper Deck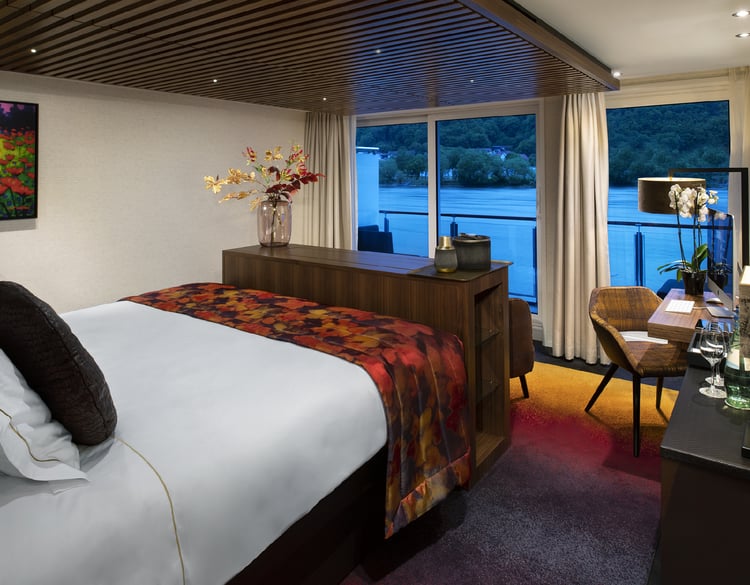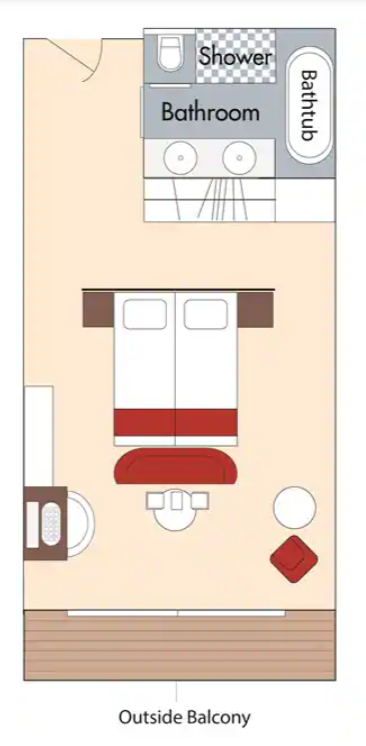 ---
Category SA or SB 355 sq ft. - SB is located on the Main Deck and SA is located on the Upper Deck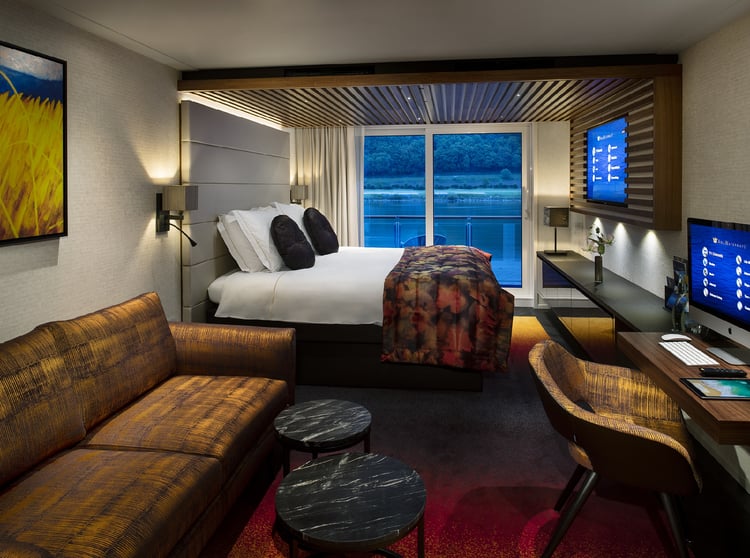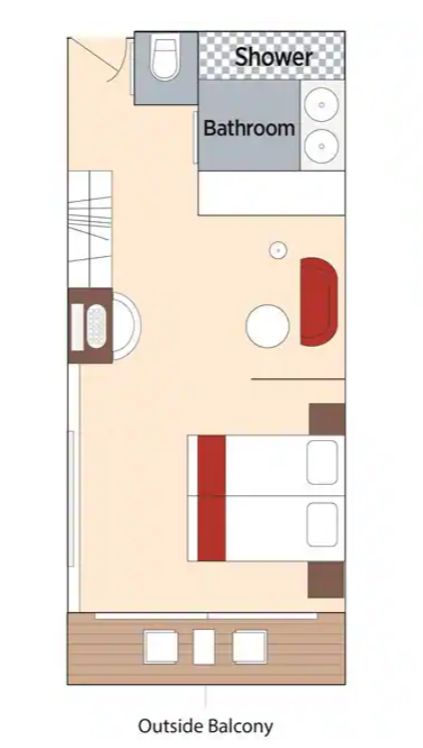 ---
Category AA or AB 252 sq ft. - AB is located on the Main Deck and SA is located on the Upper Deck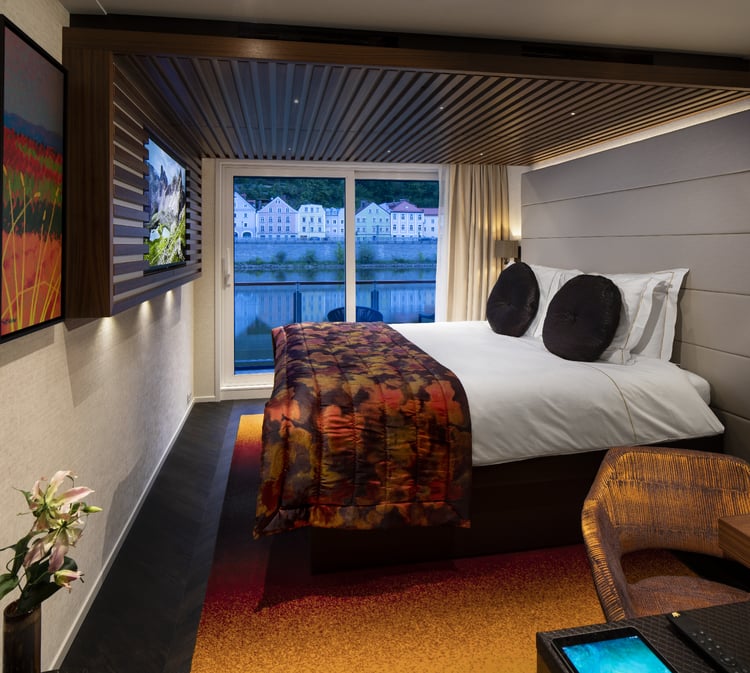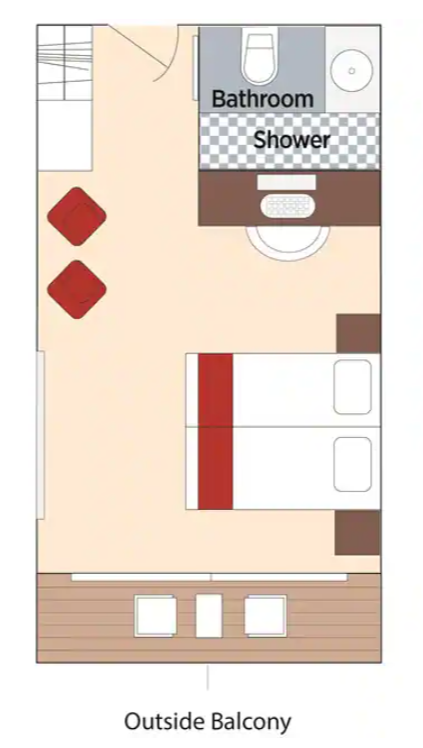 ---
Category D & E 205 sq ft. Located on the Piano deck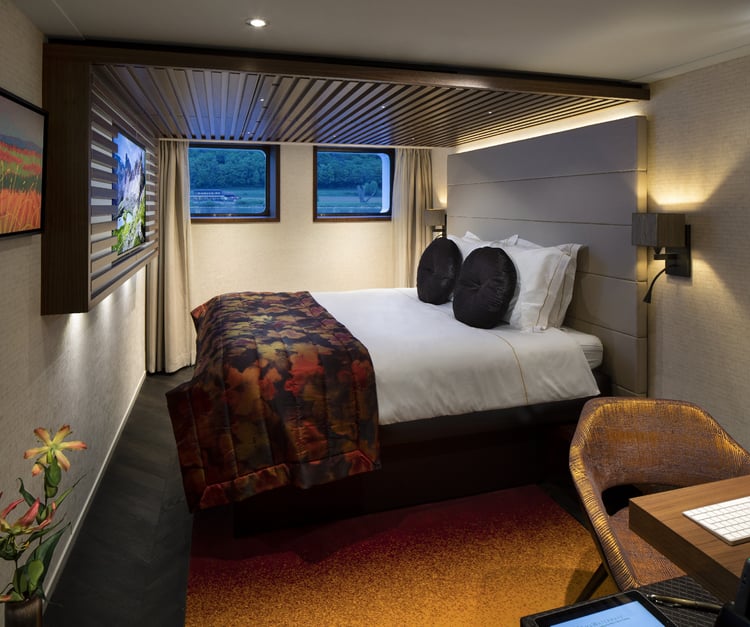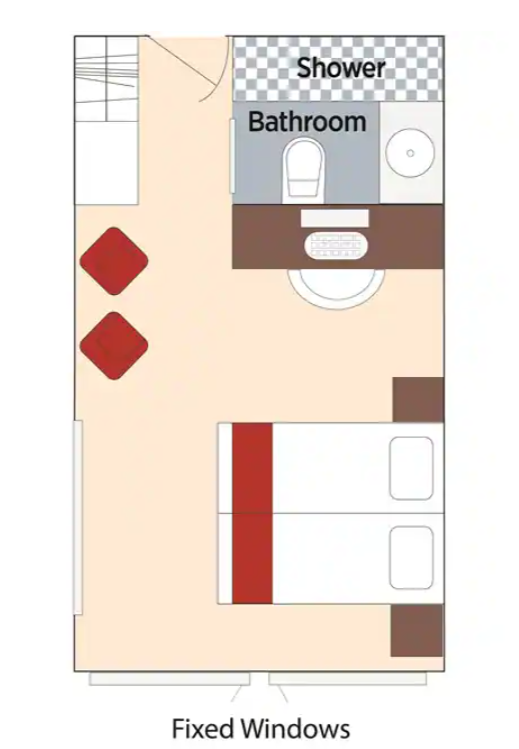 ---
Top 10 Reasons Why AmaWaterways Outshines Other River Cruise Lines:
Ships are built with lower draft and less weight – This allows them to sail in more extreme water conditions.

A common problem in river cruising is high and low water situations.

AmaWaterways ships are less susceptible to these issues

More Excursions Included – AmaWaterways offers an excursion in every port and a lot more choices – many lines only offer 1 excursion per day with limited choices.

Bikes onboard – AmaWaterways not only has bikes onboard but they also offer bike excursions

Local Wines – When in Austria enjoy Austrian wines, Budapest enjoy Hungarian wines.

Other lines give you house wines or charge you a fee for an upgraded wine package.
Chef's Table Restaurant – Watch the chef prepare an amazing meal right before your eyes.

This wonderful experience is included for all guests.

Dining Room Oversized – No rush to be seated for dinner, there is plenty of room for everyone

Less Passengers – AmaWaterways twin balcony ships are the same physical size as other ships but the Ama ships carry about 30 less passengers.

When other lines have to bring out folding chairs for entertainment and informational sessions Ama can comfortably fit every passenger.
A deposit of $400 per person is all that is required to confirm a reservation.

Final payment is not due until 90 days prior to departure.

Single Supplement Waived for categories D & E on Most Sailings (subject to availability)

Family owned and operated
To book email Susan@GoAstroTravel.com or call Susan Wolfson at 610-844-4077
Prices are per person for cruise only based on double occupancy*
| | | |
| --- | --- | --- |
| Category | Deck & Cabin Size | Promotional Pricing* |
| OS (balcony) | Violin Deck 710 sq ft | $8278.40 |
| GS (balcony) | Violin Deck 474 sq ft | $6558.40 |
| SA (balcony) | Violin Deck 355 sq ft | $4558.40 |
| SB (balcony) | Cello Deck 355 sq ft | $4238.40 |
| AA (balcony) | Violin Deck 252 sq ft | $3998.40 |
| AB (balcony) | Cello Deck 252 sq ft | $3878.40 |
| D (fixed window) | Piano Deck 160 sq ft | $2958.40 |
| E (fixed window) | Piano Deck 160 sq ft | $2559.20 |
*Prices subject to change.
Port Charges of $160 per person are included in the above pricing. Prices are for the 5-night cruise and are per person based on availability. Past AmaWaterways guests will receive their Loyalty Discounts. Airfare is not included.
The 3-night Krakow Extension is not included in the above pricing. The cost is an additional $900 per person.
Deposits: $400 per person $200 of which is immediately nonrefundable. Final payment is due 9/18/2024
Cancellation penalties apply. Your confirmation will have the full terms & conditions.
---
INCLUSIONS
What's Included?
AmaWaterways Inclusions
Excursions – Small group guided tours included in every port. Bicycle and hiking excursions also available. You can also take a bicycle out on your own.

Meals – Breakfast & lunch offers you a choice of buffet or a la carte service. Dinner is full service with several appetizer, soup, entree & dessert choices. All ships offer an alternative restaurant which is also included

Beer & Wine with Lunch & Dinner – AmaWaterways is known for its wine. Each meal is specially paired with premium local reds and whites from Europe's renowned wine regions

Complimentary Sip & Sail Cocktail Hour each evening!

Bottled Water – One of the most expensive things to buy in Europe is bottled water. Bottled water is great to take on excursions.

Wifi – Included throughout the ship. In addition, each stateroom has in infotainment center that offers access to the internet as well as TV & movies

Entertainment – An eclectic mix of local entertainment is brought on board throughout your cruise. They also have an onboard musician for all other evenings.

Deluxe cruise accommodation in an outside stateroom

State-of-the-art Infotainment System in all staterooms featuring free high-speed Internet access, hit Hollywood movies, extensive music library & English language TV stations

Terry bathrobes and white-on-white plush bedding in all staterooms

Complimentary Wi-Fi access on board

Bottled water and drinks of your choice in every stateroom replenished daily
Auschwitz photo credit: Paweł Mazur